THE LIVENIRVANA COMPANION TO OFFICIAL RELEASES:
Nirvana (Geffen Records)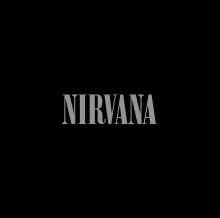 Song:
Date Recorded:
Studio:
Album:

You Know You're Right

January 30, 1994

Robert Lang's Studios - Seattle, WA

Previously unreleased

About A Girl

December, 1988

Reciprocal Studios - Seattle, WA
Bleach

Been A Son

September, 1989

Music Source Studios - Seattle, WA
Blew EP

Sliver

July 11, 1990

Reciprocal Studios - Seattle, WA
Incesticide

Smells Like Teen Spirit

May-June, 1991

Sound City Studios - Van Nuys, CA
Nevermind

Come As You Are

May-June, 1991

Sound City Studios - Van Nuys, CA
Nevermind

Lithium

May-June, 1991

Sound City Studios - Van Nuys, CA
Nevermind

In Bloom

May-June, 1991

Sound City Studios - Van Nuys, CA
Nevermind

Heart-Shaped Box

February 14-March, 1993

Pachyderm Studios - Canon Falls, MN
In Utero

Pennyroyal Tea (remix version)

February 14-March, 1993

Pachyderm Studios - Canon Falls, MN
In Utero (K-Mart/Wal-Mart version)

Rape Me

February 14-March, 1993

Pachyderm Studios - Canon Falls, MN
In Utero

Dumb

February 14-March, 1993

Pachyderm Studios - Canon Falls, MN
In Utero

All Apologies

November 18, 1993

Sony Studios - New York, NY
Unplugged In New York

The Man Who Sold The World

November 18, 1993

Sony Studios - New York, NY
Unplugged In New York

Where Did You Sleep Last Night

November 18, 1993

Sony Studios - New York, NY
Unplugged In New York
Something In The Way (vinyl & Japanese CD releases only)

November 18, 1993

Sony Studios - New York, NY
Unplugged In New York
Released: 10/28/02 (outside US), 10/29/02 (US)

Releases: CD, Vinyl (2 LPs).

Additional Information: Features the previously unreleased song 'You Know You're Right'. All the other tracks, taken from the NIRVANA back catalogue, have been "newly mastered" for this release. Includes a forward by David Fricke. The vinyl version is a double LP release. Only the vinyl release and Japanese versions of the CD contain 'Something In the Way'.
Review: Almost six years to the day since the last NIRVANA album came the release of the greatest hits package, simply titled 'Nirvana'. Fans had long believed the next album would be a box set of unreleased songs and demo versions, indeed a 45-track two disc set was reportedly assembled for launch to coincide with the tenth anniversary of the release of the band's breakthrough album, 'Nevermind'. Courtney Love, Kurt Cobain's widow, was displeased by her lack of input on the box set, and made a legal challenge to block the release. Coincidentally, she was also in court trying to extricate herself from her legal obligations to her record label with her former band 'Hole'.
Love threatened to withhold Cobain's last known song, an unreleased anthem titled "You Know You're Right" from any future releases, which would be the one and only unique selling point of any future release. Deadlock ensued as wild accusations concerning sanity and precise contributions to the band were presented in court. However, Love's position of power was effectively undermined by two factors. First, Universal decided they would release a 'greatest hits' album with or without the new song, and secondly on May 10th a Spanish fan shocked the online fan community by claiming and then proving he had a copy of the song.
Jim Barber, Courtney's lawyer and boyfriend, responded by firing off emails to all online fans concerned threatening legal action, but it proved impossible to force the genie back into the bottle, and the song leaked on the internet in mid September. Radio stations across the world started airing the track, and once again the band's lawyers faxed legal threats to the stations demanding they cease and desist playing the song. Some radio stations were undeterred, and continued playing the track anyway. Fearing a public relations disaster on an unprecedented scale, the record company executives realised their position was hopeless, and shipped out promotional CD-Rs of the song.
Love was thus forced to negotiate, and was able to force the delay of the box set (which was finally released in 2004 - see our comprehensive guide to 'With The Lights Out') to be overtaken by a greatest hits package. The date originally suggested was October 22nd 2002, but Love feared her own new material would receive little attention, and demanded the CD be held back until 2003. However, with all concerned realising the need to capitalise quickly on the media uproar over the new song, the release date was pushed forward to November 12th and incredibly then again to October 29th.
The track list was published at online retailer Amazon, but was quickly removed as the band realised that bootleggers would be able to assemble the album themselves and release counterfeits early. Jim Barber proclaimed that the track listing was incorrect, but of course this turned out to be obfuscation.
The first track, "You Know You're Right" (recorded by Adam Kasper) is the sole previously unreleased song, recorded at NIRVANA's last studio session in January 1994 just before the start of their final tour. The song is clearly one of the very best ones in the band's oeuvre, and is hoped to propel album sales into the tens of millions. "About A Girl" (recorded by Jack Endino) is the one representative of NIRVANA's debut album, the 1989 release 'Bleach'. Next up is "Been A Son" (recorded by Steve Fisk), but the rendition selected is the one from the very rare 'Blew EP', and not the common Goodier Session version from 'Incesticide'. Following this is "Sliver" (recorded by Jack Endino), a Sub Pop single did feature on 'Incesticide'. Next are the four 'Nevermind' singles (all recorded by Butch Vig) in order of release, followed by four songs from the band's last studio album 'In Utero' (recorded by Steve Albini), and concluding with three songs from NIRVANA's November 1993 appearance on 'MTV's Unplugged'.
The track list has been much debated on the internet and in some quarters much derided: just as anyone with a passing knowledge of English football (soccer) thinks he/she could select a better national team than the current manager, any fan with all the albums could select his/her dozen favorite songs.
It is clear, however, that the songs chosen are the result of politics and commercial considerations. The 'Bleach' rendition of "About A Girl" is unsteady and inferior to the acoustic version released on the 'Unplugged In New York' album, but was presumably included so that there would be some representative of the band's debut. Had this release ignored 'Bleach' entirely, accusations would undoubtedly have surfaced accusing the band of ignoring its roots and the contribution of Chad Channing (the drummer on most early releases).
"Been A Son" was selected for those collectors who cannot afford to pay $100 to track down a copy of the scarce 'Blew EP', and is an extra purchase incentive for fans who have not heard this rendition. However, it sounds very uncouth and raw nestling beside the band's genuine hits, and is probably the weakest song on the album, and so those collectors who were supposed to benefit from the addition of this song have ended up criticising its inclusion.
The next six songs are those for which NIRVANA produced music videos, and are uncontroversial choices. Indeed, only the four singles from 'Nevermind' are included, which surprised many: this album is widely considered their best work. The reasoning is easy to divine. The record label do not want to cannibalise new sales of 'Nevermind' by including too much on this album.
The Scott Litt remix of "Pennyroyal Tea" neuters the bass roar present in the choruses of the 'In Utero' album track, but is otherwise unspectacular. The liner notes claim this version to be "previously unreleased", but it has actually been available for many years on the censored Wal-Mart version of 'In Utero'.
Next follow two further album tracks from 'In Utero', bringing the total up to four. This CD then rounds off with two or three songs (depending on where you live) from the band's fabulous quasi-acoustic concert recorded for MTV Unplugged. The pre-and post-song applause is muted as much as possible between the songs to allow this release to flow better. All three of the songs were aired extensively by radio stations on account of being pressed on promotional CDs.
All songs selected, bar "Been A Son" and "Dumb", are the standard NIRVANA songs played on the radio, and were therefore obvious candidates for inclusion on this record: that is precisely what a greatest hits CD should contain, by definition. The fact that none of the band's less commercial / pop-influenced, more punk/metal-style songs have been included should not be a surprise either: they do not belong on a commercial CD such as this one.
Those who bemoan the lack of rare song "Oh, The Guilt" or the popular "Sappy" similarly miss the point of a greatest hits compilation: with a new rareties release planned for next year, these songs have rightly been retained for that.
Those who criticise the CD as being too short are also wide of the mark. Songs such as "Aneurysm" may be fine songs, but would seem out of place on such a pop-oriented compilation. A strong case could be made for making this release even shorter still, removing perhaps tracks 2, 3 and 4 to leave an even more definitive selection.
The author is ambivalent on the subject of the remastering of the songs for this release: the pre-'Nevermind' songs now feature much greater separation between instruments and do sound clearer, but this causes their jagged edges (especially on "Been A Son") to be more prominent. The stark contrast with the following Butch Vig produced numbers makes one wonder if the effort was wasted.
The packaging of the CD is, as usual, excellent: Robert Fisher always seemed to be able to guide the band into selecting beautiful images and stunning photos, which were arguably one factor in the band's success. This time the release is monochrome, but this is in keeping with the reverential tone of the release.
This is not to say 'Nirvana' is faultless: the editing of the CD is atrocious, with "Where Did You Sleep Last Night" starting over two seconds before the track marker, and the gaps between songs seeming in some cases too short and others too ponderous. Those responsible for this should be roundly condemned for their sloppiness.
The liner notes are also egregious: the author David Fricke lacks both eloquence and erudition on the subject of NIRVANA. He misquotes the lyrics to "You Know You're Right" (using instead those sung by Ms Love during her rendition) and astounded the online fan community by referring to the song as "Autopilot" and "On The Mountain", both of which were bootleggers' titles resulting from them mishearing Dave Grohl's muffled introduction to the previously known live version, "This is our last song. It's called 'All Apologies'." Cobain changed his mind and played "You Know You're Right" instead.
These quibbles do not detract from the album as a whole, which remains an excellent introduction to the band, surely the main purpose of this CD. Complaints from hardcore fans about the lack of rare material selected for their delectation are utterly ridiculous in the context of a greatest hits release.
LiveNIRVANA.com, October 28th 2002 (updated 2011)
---