January 16, 1993 - São Paulo, BR
LIVE NIRVANA INTERVIEW ARCHIVE January 16, 1993 - São Paulo, BR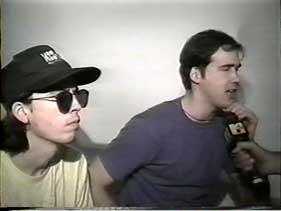 Personnel
Interviewer(s)

Fábio Massari

Interviewee(s)

Krist Novoselic
Dave Grohl
Sources
| Publisher | Title | Transcript |
| --- | --- | --- |
| MTV Brasil | TBC | Yes |
Transcript
Dave Grohl: Our music has a lot of energy to it and in a smaller place, energy translates better. But, I suppose if you come down here just to play two shows, y'know…
Krist Novoselic: I have a good time playing, it doesn't matter. I mean, I have a preference, but I don't have, like, a strong enough opinion to say that I hate arenas or that I hate clubs. I mean, they all have their own merits, y'know?
KN: We're gonna do these two shows, it's gonna be pretty much the standard set. Then we're gonna record our record, then we're gonna go on tour this year, and we're gonna have a whole new set, all new songs.
DG: So we won't ever have to play Smells Like Teen Spirit again [laughs]
DG: It's fun to play, it's just weird because it seems for a lot of people it's just, y'know, it's the only Nirvana song and that's kinda- that's upsetting.
KN: It's just not gonna be as, like, glossy and candy-ish as Nevermind. It'll be more kinda like Bleach, just kinda rockin', a lot more… not… it's not really gonna be left-field, y'know, not totally crazy, but…
KN: It came pretty naturally, the time was right to do it. Nevermind was released in September of 1991, people were hungry for material…
DG: A lot of people think that the band's only record is Nevermind and most people aren't even aware that Bleach is out. Now that Bleach is getting better distribution, more people know about it, but…
DG: Incesticide will sort of bridge the gap in-between Nevermind and the new record that'll come out.
KN: Yes and No.
DG: Kinda like Neil Young's got Harvest and then he's got Harvest Moon. Well, instead of taking 20 years, we're just gonna take 3 to go back.
© Fábio Massari/MTV Networks, 1993