June 22, 1992 - Belfast, UK
LIVE NIRVANA INTERVIEW ARCHIVE June 22, 1992 - Belfast, UK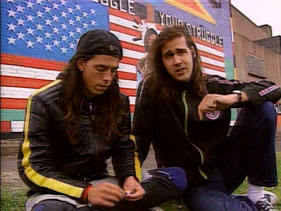 Personnel
Interviewer(s)

Hetty Los

Interviewee(s)

Krist Novoselic
Dave Grohl
Sources
| Publisher | Title | Transcript |
| --- | --- | --- |
| MTV Europe | MTV News At Night | Yes |
Transcript
Krist Novoselic: Belfast… notorious city… Northern Ireland… lot of problems, y'know? Seems like a lot of ingredients of, uh... certain social, human attributes, like oppressive governments, nationalism, religion, religious elitism, revenge… I dunno, I don't really have any conclusions on the deal here, but…
Dave Grohl: At the same time, it's hard for us to relate to something like this, just because it's something that we've never really been exposed to.
Dave: It's just a weird vibe, it's something that I've never really felt before.
Krist: [Nodding] Right, right… it's really wild, there's definitely something in the air, some kind of consciousness.
Krist: I'd love to go, like, play the West Bank and, y'know, all kinda crazy places in the world. Kinda be on the edge, y'know. They need rock music there too.
Dave: We're sort of in a weird position, umm, there's so many people that haven't seen us play and we're almost sort of forced to play bigger places…
Krist: Yeah.
Dave: …and, y'know, a lot of the people that saw Nirvana in 1988 or '89 feel sorta gypped.
Krist: We're a result of that whole major label scarfing up independent bands, y'know? I guess, from what I've been told, that we prove that "independent alternative music is a viable commodity."
Dave: Exactly.
© MTV Networks, 1992